Grande tristesse ce 27 juin 2019.
Notre doudou s'en est allé rejoindre les vertes prairies des chasses éternelles
Voici « DUDE » c'était un véritable pot de douceur ; une vraie crème qui savait se montrer très sportif quand il le fallait.
Pédigrée de "Dude" Sweettrees FuddyDuddy
Né le 15-02-2006 – 27-06-2019  HD : A2 – ED : 0
CH. Deer Runs Sweet Carmel Cream
CH. Hunt Club Hennings Mill Gino

CH. Borador's Sweet Charity

Tibblestone The Chrorister
CH. Hennings Mill Caruso 1987
Hennings Mill's Country Charm
Boradors Edgewater Harlow
Sweettrees All That Jazz HD
A
Utitan Van't Balkenhof HD A
Sweettrees Very Busy HD A
Black Masai's Royal Man B
Beechcroft Foreign Exchange HD : A
Sweettrees Pixie Girl HD : A
CH. Quatro Of Lucifer's Delight
Tweedledum Midnight Sun A
CH. Union Jack Of Tintagel Winds HD : A
Ci-dessous, le père de Dude
USA Champion : Borador's By George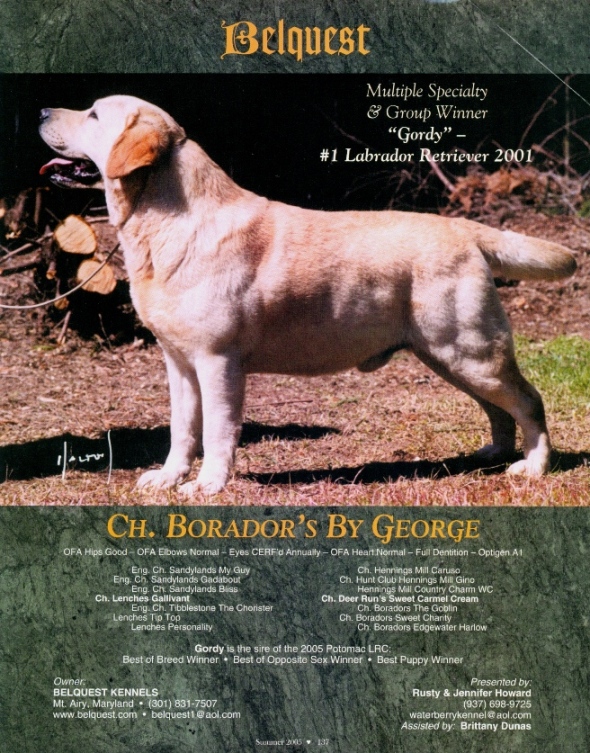 Pédigrée de Tom "BigGeorges of Shadowy-Valley"
Né le : 26-09-2002 HD.C ( g.A-d.C) ED1
Yhuri of Angels Head
HD : B
Gordon de Chantemelse HD : A
Splash de Apporteur HD : A
Mocastar Of Fisherman's Mascot 1988
Quim of Nieuwburg Castle . A
CH. Trapper V. Rumah Aäron A
Trialer
TearsofJoy of Angels Head
HD : A
CH.int & World Champion
Lejie Royal Mail. Bl. HD : B
Quelly of Misty Dreams
: HD.B
Am. CH. Receiver of Cranspire A
Gladlab Eye for Eye HD. B
Poolstead Pretentious at Rocheby
CH-Mardas Master Mariner 1983
CH- TRIAL Lejie Lucy 1982
CH Cranspire Skytrain / 1979
Polly's Pride Of Genisval 1979
CH-Gladlab Chase Me Charly 1987
CH-IB Blondella Ballet 1985
Très belle attitude de Tom à la chasse.